Opening Hours and Entry
WELCOME TO THE EUREKA CENTRE BALLARAT
Museum entry fees: 
Adults $6, Children $4, Concession $4, Family Pass $18
City of Ballarat residents free on provision of photo ID.
Opening Hours: 10am - 5pm daily. Closed Christmas Day and Boxing Day.
Ballarat Research Hub at Eureka (BRHAE) is open from Monday to Thursday from 10am to 4pm. For more information, please refer to this link. 
Conditions of entry apply (and limited numbers may apply) to ensure a COVID-safe experience.
We look forward to seeing you soon.
Tickets
Entry: Adult $6, Children $4, Concession $4, Family Pass $18

City of Ballarat residents free on provision of photo ID

Guided tours (10 or more people) and school groups by arrangement

For Education program information and bookings, please refer to this link

Entry to the gift shop and Ballarat Research Hub at Eureka is free
Lilly's at Eureka Cafe is open every day.
Where to find us
Visit:
Eureka Centre
102 Stawell Street South
Eureka (Ballarat), 3350, Victoria
AUSTRALIA
By mail:
Eureka Centre
PO Box 655
Ballarat VIC 3353
AUSTRALIA
By phone:
+61 3 5333 0333
By email:
EurekaInfo@ballarat.vic.gov.au
ABN: 37 601 599 422

Coordinates: 37.564847°S, 143.8841°E
Get Directions
hours
Getting Here
Expand all
Close all
Car Parking

Eureka Centre is located at 102 Stawell Street South, Eureka (Ballarat).

Car parking is available at the Stawell Street side of the building, close to the main entrance. Two accessible car parking spots are is available in this car park, close to the main entrance.

There is additional limited car parking at the rear of the building (near the corner of Eureka and Rodier Streets). Please note, this car park is not close to the main entrance and requires walking along unsealed paths.

Driving

Take the 110km journey along the Western Freeway. Ballarat is just an hour and 15 minutes west of Melbourne.  

Driving times from popular destinations

Melbourne to Ballarat
1 hours and 15 minutes
110km

Adelaide to Ballarat
7 hours and 15 minutes
618km

Warrnambool to Ballarat
2 hours and 21 minutes
175km

Geelong to Ballarat
1 hour and 16b minutes
86km

Mildura to Ballarat
5hrs and 21 minutes
464km

 

Public Transport

FROM BALLARAT RAILWAY STATION

By bus

Take the number 15 bus from the Ballarat Railway Station to the Eureka Stockade Memorial Gardens / Eureka Centre
https://www.ptv.vic.gov.au/route/11366/15-ballarat-station-brown-hill/

FROM MELBOURNE

By train

Direct from Melbourne's Southern Cross Station, hop on the V/Line train and arrive in less than 90 minutes at the historic Ballarat Railway Station in the centre of town.

Via the airport

The road trip from Tullamarine or Avalon airports to Ballarat takes about one hour. Transport options direct from the airport include hiring a car or booking the Airport Shuttlebus from Tullamarine
gettinghere
Visitor Guide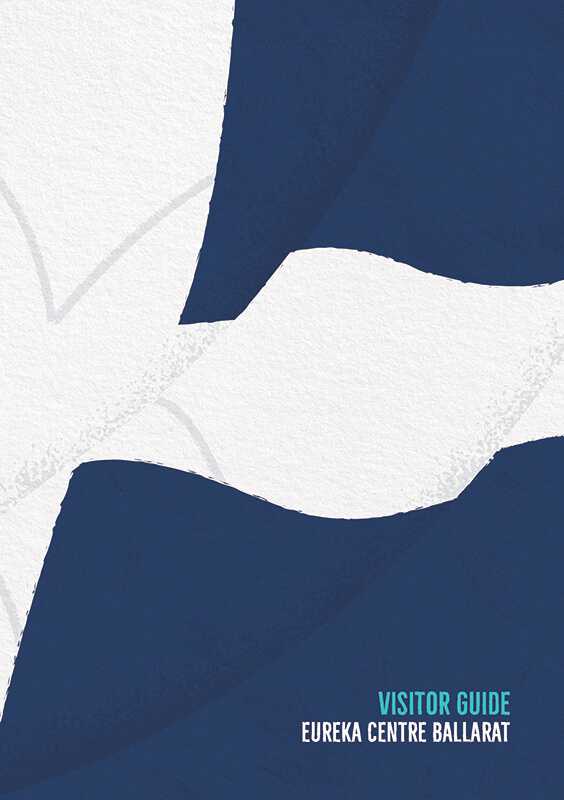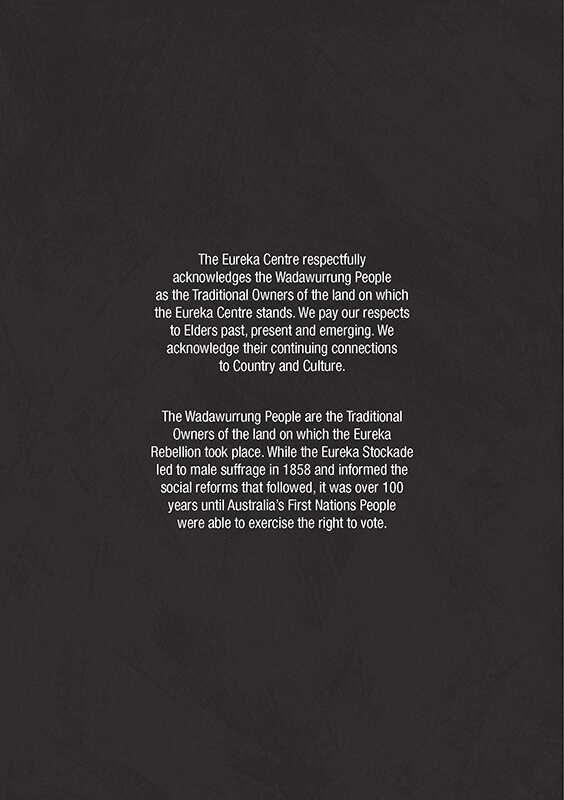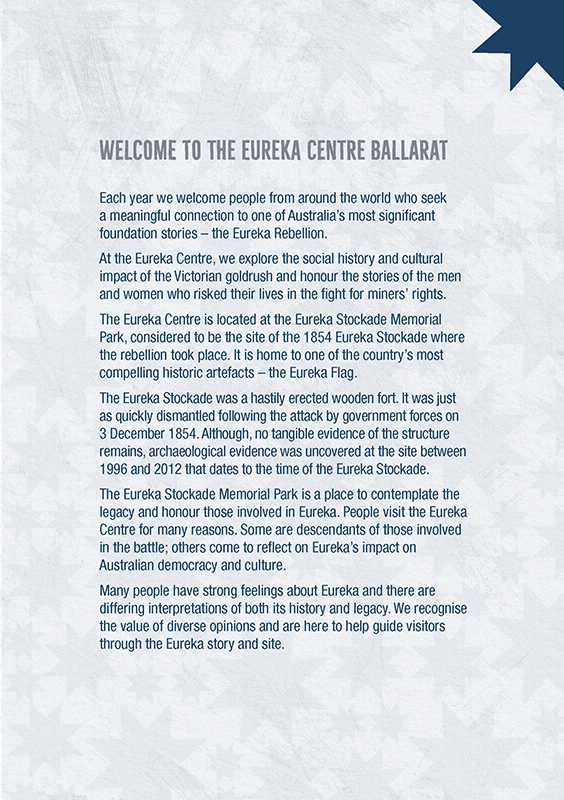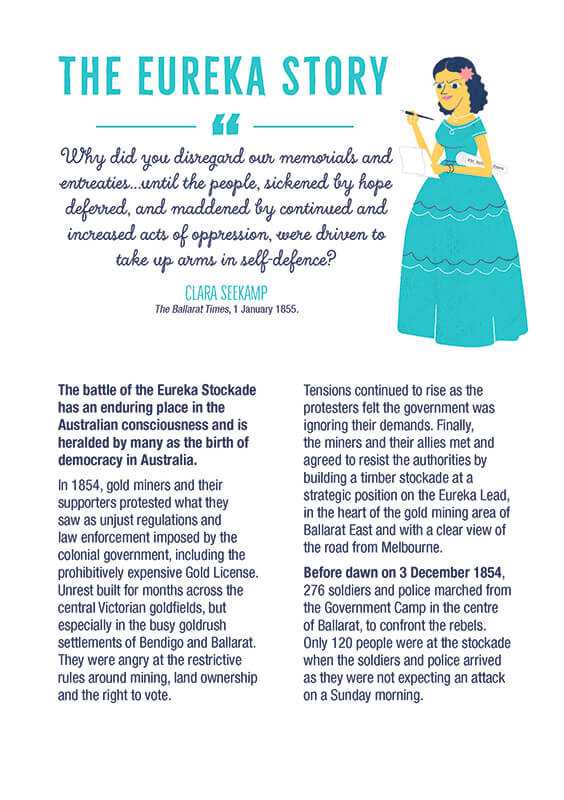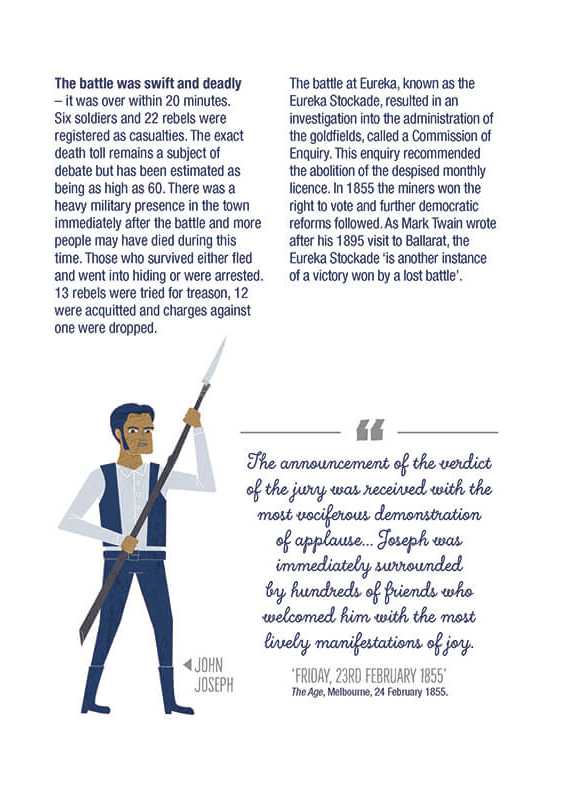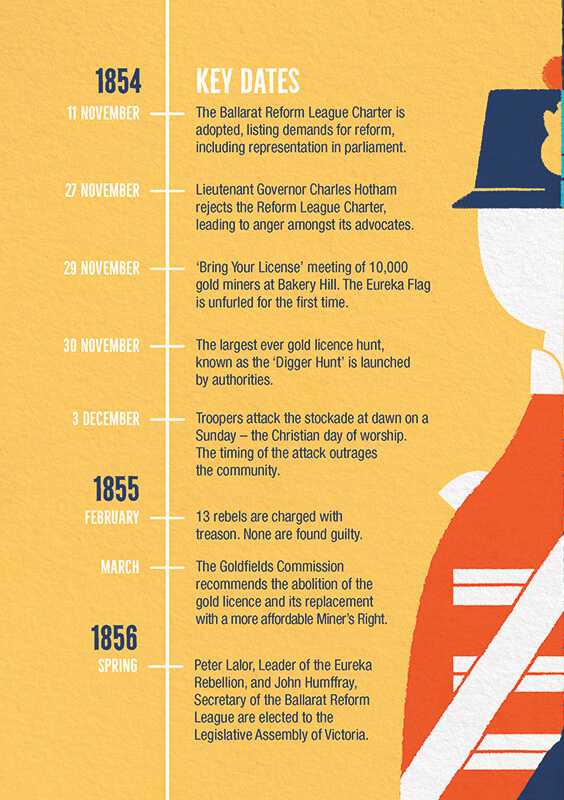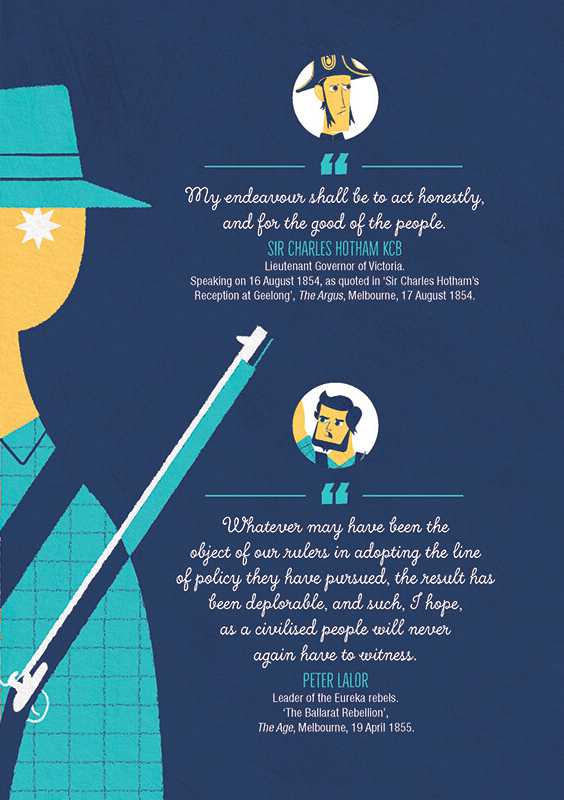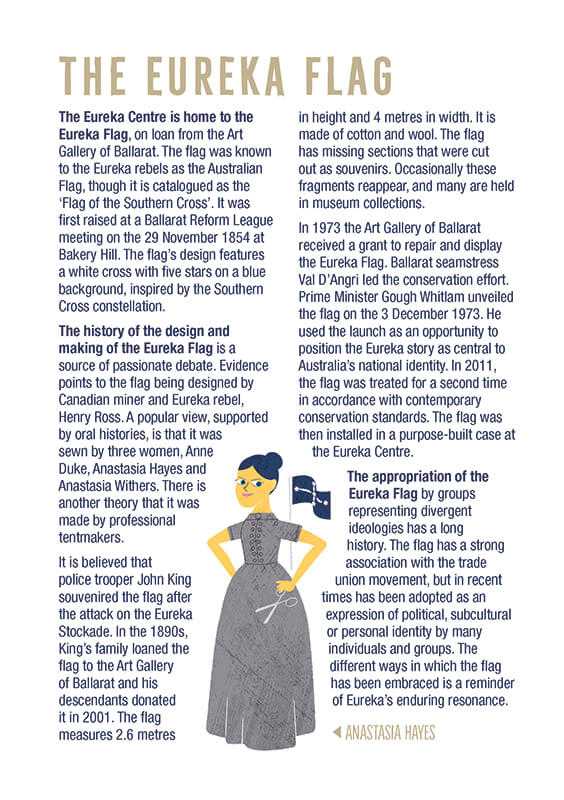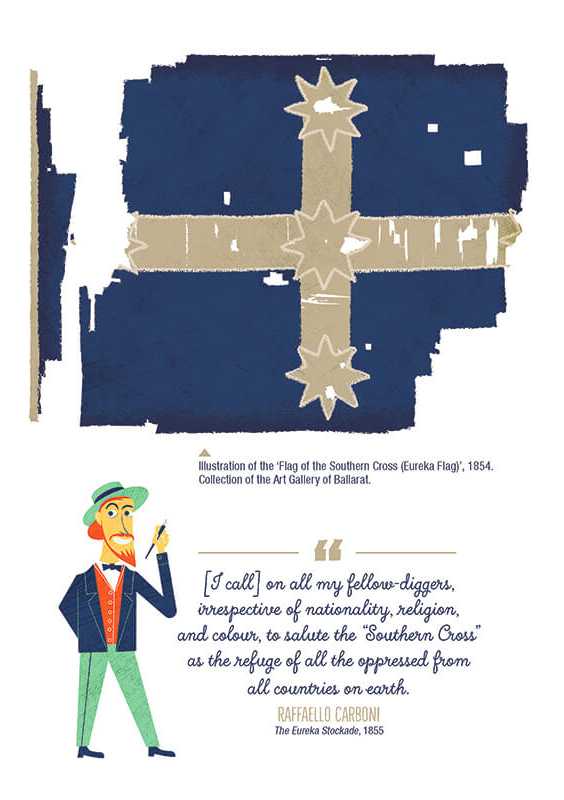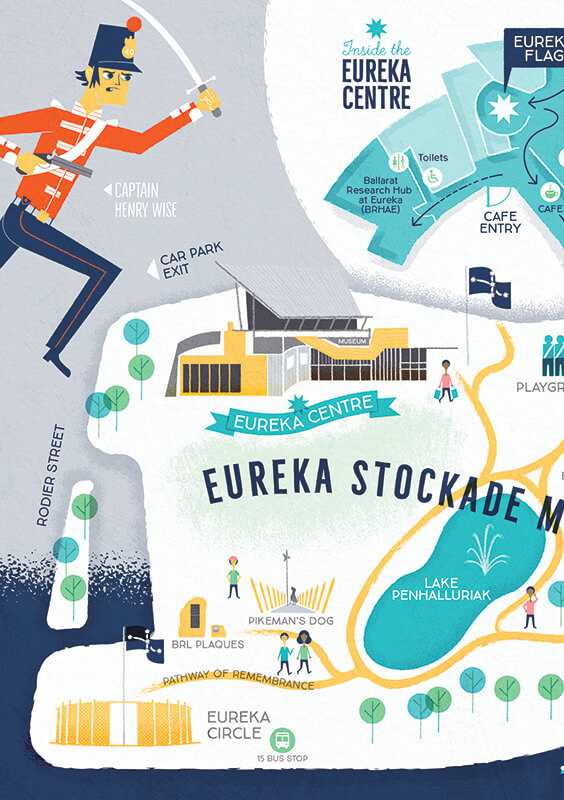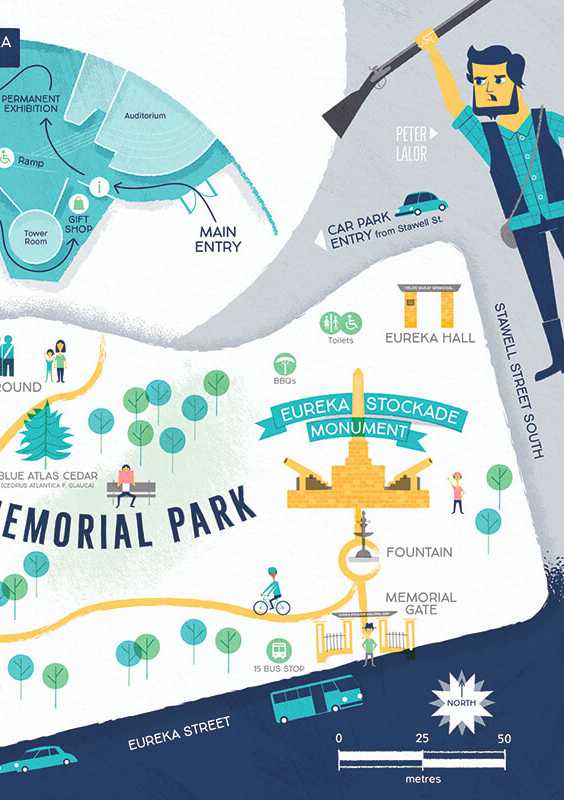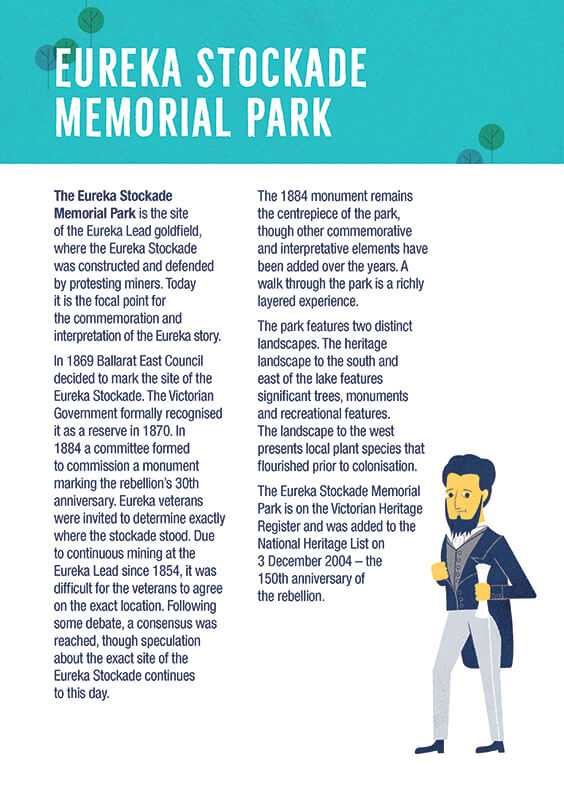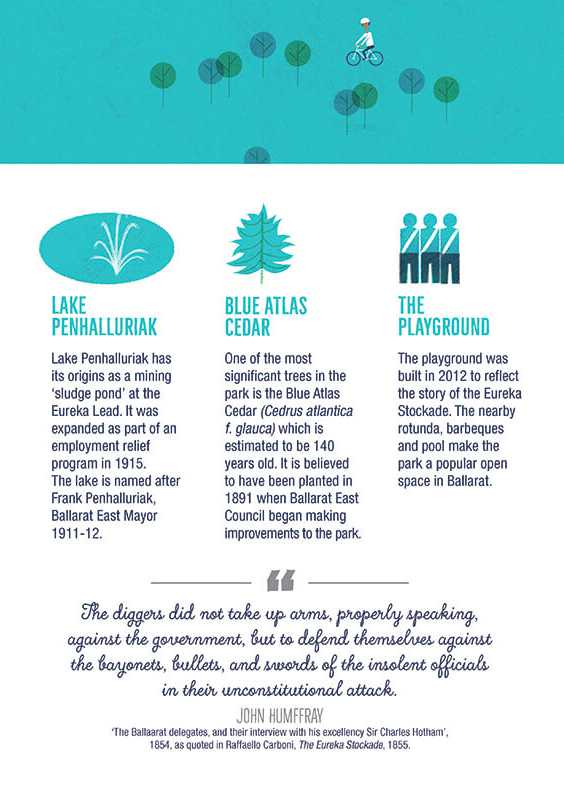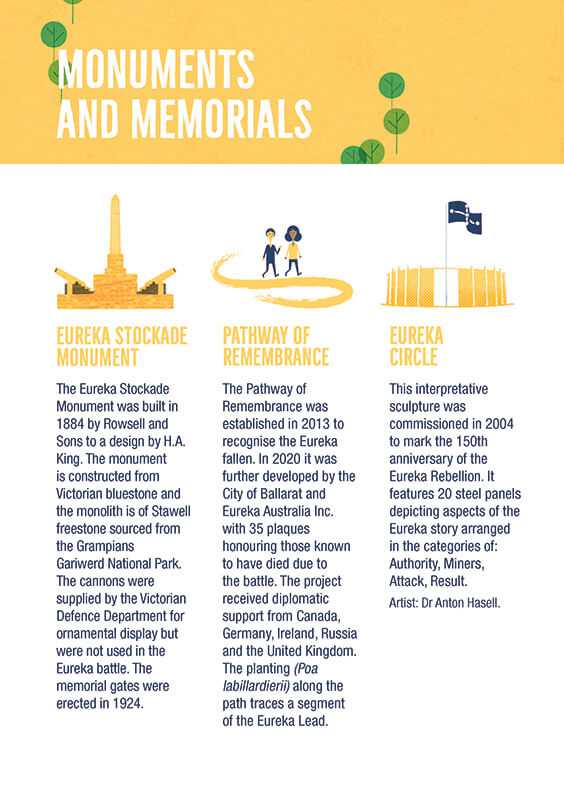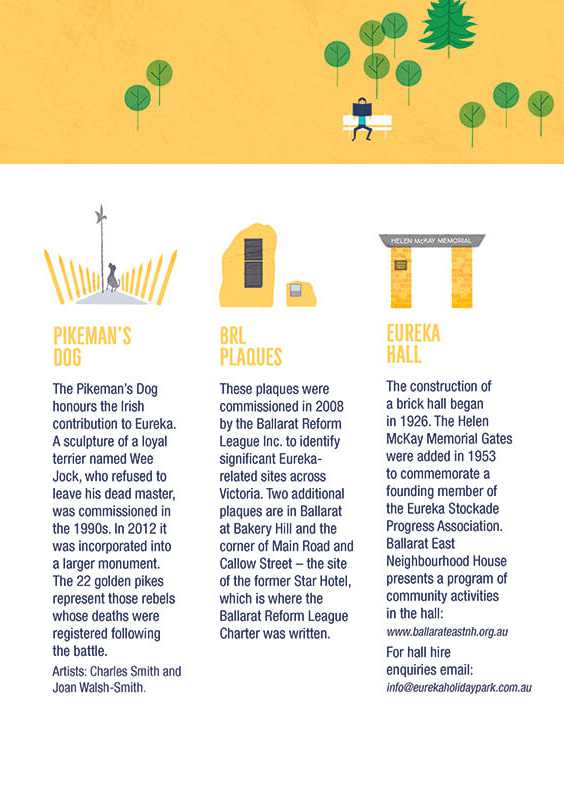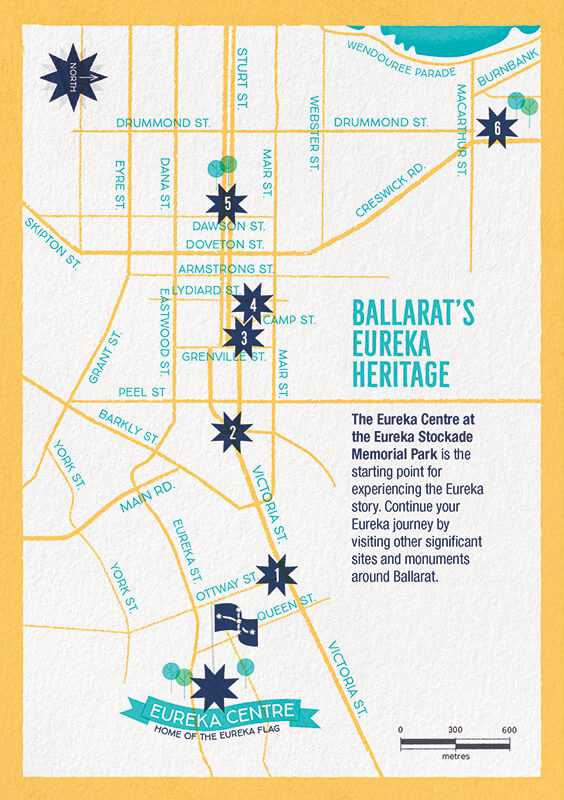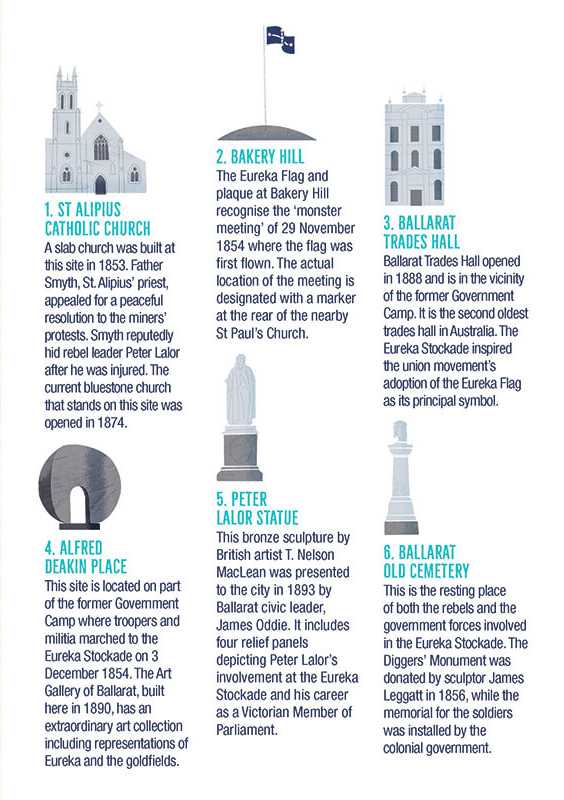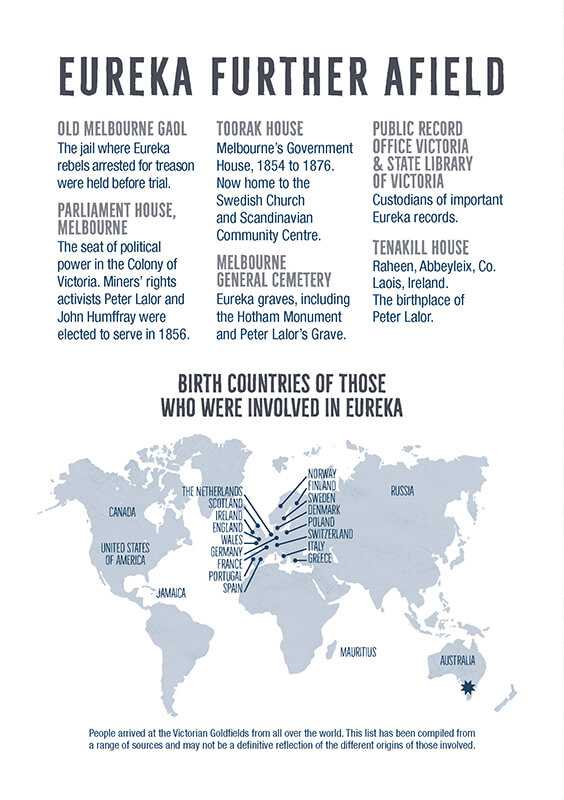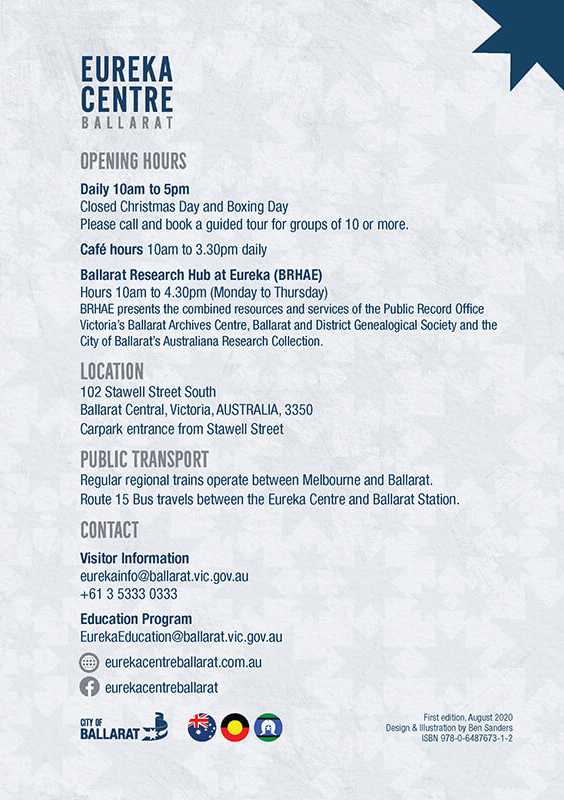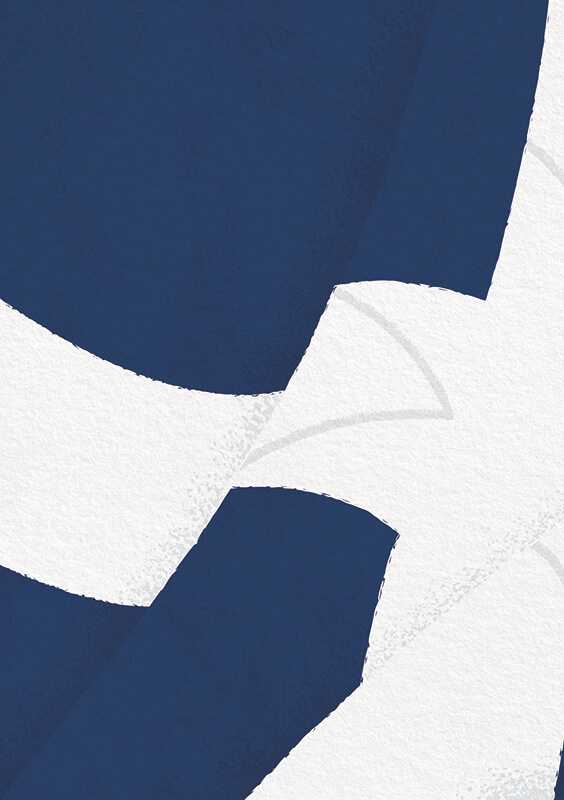 Download a copy of the guide

Accessibility
Ramps are throughout the building to ensure easy access to all areas of the Eureka Centre.
Toilets with wheelchair access and infant change table are available.
The Stawell Street South side of the building is recommended for people requiring accessible parking. There are three accessible car parking spots near the main entrance.
Wheelchairs are available and can be reserved before your visit by phoning 03 5333 0333 or emailing: EurekaInfo@ballarat.vic.gov.au
accessibility
Lilly's at Eureka overlooks the grounds of the Eureka Stockade Memorial Park. With a focus on fresh local produce, the café is a popular destination for locals and visitors alike. Enjoy delicious filled baguettes, freshly baked cakes and pastries and speciality coffee.
Open daily from 10am to 5pm.
Our shop has many wonderful things to explore. We have an impressive selection of books about history to help you continue your exploration of Eureka and Australian colonial history more broadly. Our wide range of Eureka-themed products such as t-shirts, kitchenware and giftware offer something for everyone. We are especially proud to showcase the talents of our local creative community.
The shop is open daily from 10am to 5pm. Entry to the shop is free.